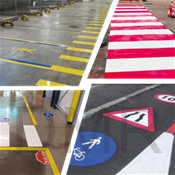 SIGNAGE
In the SIGNAGE category we offer products necessary to outline safety paths, maintaining order in any working environment and not.

Precision and ease of application, durability, easy installation without interrupting the production chain are some of the features of our adhesive road markings.

Some of the advantages of our adhesive road markings are: quick installation, no drying times, no colour changes, customization possibilities, reduced labour costs.

Unlike ordinary paint, our adhesive signage does not require special disposal and does not emit odors.

The high quality of our signage products has allowed us to be a leader in the industry.

REQUEST A FREE SAMPLE TO TEST THE QUALITY OF OUR SIGNAGE!
Related Products
Pre- and after-sales service
Commercial network and customer service at your disposal
Ongoing consultancy
in all phases of projects
Wide availability
stock always available
Customisable products
solutions for every need
Installation service
specialised technicians and installers