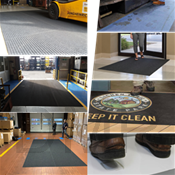 NON-SLIP ABSORBENT MATS FOR CLEANING
In the category NON-SLIP ABSORBENT MATS FOR CLEANING we offer products designed specifically to absorb, retain liquids and dust and withstand the intense passage of pedestrians, forklifts, pallet trucks and other moving vehicles.

Our non-slip absorbent cleaning mats are recommended in working environments such as companies, offices, supermarkets, logistics areas, entrances to hotel and public facilities: they are suitable for any environment in which people or work vehicles move and work!

Look at the products to find the carpet that best suits your needs!
Pre- and after-sales service
Commercial network and customer service at your disposal
Ongoing consultancy
in all phases of projects
Wide availability
stock always available
Customisable products
solutions for every need
Installation service
specialised technicians and installers