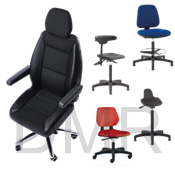 ERGONOMIC CHAIRS
In the ERGONOMIC CHAIRS category we present basic chairs for every company that cares about the health of its employees.

Why use ergonomic chairs? Repetitive work in the same position causes strain on the spine, muscles, circulation and this causes physical damage to the worker. Unlike what is commonly thought, side effects are not only short-term with muscle aches, physical fatigue, but are mostly visible long-term effects with much more serious problems than simple back pain.

This is precisely why ergonomics in the workplace is important, to the point of being protected by D.Lgs. 81/2008 which stresses: "Respect for ergonomic principles in work organisation, workplace design, choice of equipment and definition of working and production methods, in particular to reduce the health effects of monotonous and repetitive work"

Do good to your company: choose the ergonomic chair that best suits your needs!
Pre- and after-sales service
Commercial network and customer service at your disposal
Ongoing consultancy
in all phases of projects
Wide availability
stock always available
Customisable products
solutions for every need
Installation service
specialised technicians and installers