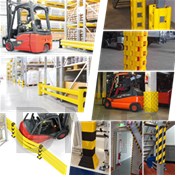 PROTECTION AGAINST IMPACTS
How to protect walls, pedestrians, machinery workers, corners, shelving, forklifts, cars or heavy vehicles?

In the section PROTECTION AGAINST IMPACTS there are all the products designed as solutions to cushion, protect and avoid strong impacts for corporate safety, but not only!

Indeed we also offer articles used in schools, gyms, car parks that protect against any kind of overhang or collision hazard.

DMR offers and guarantees solutions, now it's up to you to choose safety!
Related Products
Pre- and after-sales service
Commercial network and customer service at your disposal
Ongoing consultancy
in all phases of projects
Wide availability
stock always available
Customisable products
solutions for every need
Installation service
specialised technicians and installers