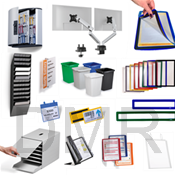 OFFICE SOLUTIONS / WAREHOUSE / LOGISTICS
In the section OFFICE SOLUTIONS/ WAREHOUSE/ LOGISTICS we offer key products for Visual Management.

Visual management, understood as the visual management applied to processes, is a method for creating an environment rich in immediately perceptible and visible information, available to all staff and presented in a clear and understandable way.

Good communication and visibility of information are crucial to the success of a lean and 5S manufacturing process.

Whether they are products for the office, for the warehouse or for the logistics, remember: the improvement of a company also passes through the Visual Management!
Related Products
Pre- and after-sales service
Commercial network and customer service at your disposal
Ongoing consultancy
in all phases of projects
Wide availability
stock always available
Customisable products
solutions for every need
Installation service
specialised technicians and installers